ACCORD – Automating the Building Permitting and Compliance Checking
ACCORD is a Horizon Europe project (2022-2025) that focuses on automating the building permit and compliance processes using BIM and other data sources. ACCORD develops a Semantic Framework that will be demonstrated in five real-life construction projects around Europe: Finland, Estonia, Germany, UK and Spain. The framework includes semantic interoperability, a rule formalisation tool and integrated micro-services for building permit and compliance checking.
Accord consortium and the mission
ACCORD consists of 21 organisations representing companies, universities, research organisations, association and a ministry that are devoted to improving the productivity and quality of design and construction processes, supporting the design of climate-neutral buildings and advancing a sustainable built environment in line with the EU Green Deal and new European Bauhaus initiative.
ACCORD project was kicked off in Helsinki, Finland, in September 2022. The project will digitalise building permit processes, which should be transparent and resource efficient.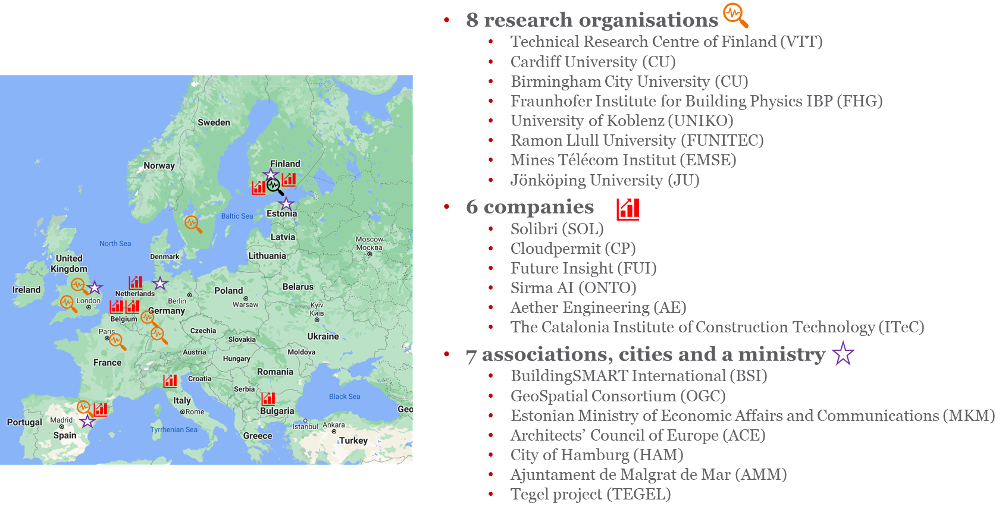 The building permit applicants and authorities have a single-user interface for all required permitting activities.

ACCORD's 5 key objectives in short
Develop a semantic framework for European Digital Building Permitting processes, regulations, rules, data and tools.
Formalise, using semantics, a permitting and compliance process that incorporates data, software tools and stakeholders.
Integrate existing state-of-the-art tools and solutions in this area and develop new ones that are able to handle a wide variety of data described according to different specifications and standards (IFC, bSDD, BCF) and rule languages (such as RASE, SWRL, N3-logic and SHACL)
Demonstrate, utilising the semantic framework, the automated permitting and compliance processes for construction, renovation and demolition work, taking place in a set of demonstration projects in various EU regulatory contexts: Finland, Estonia, Germany, UK and Spain.
Foster wide impact and replication potential of semantic-enabled digital building permitting and compliance checking solutions at the European and international levels through a combination of targeted dissemination, focused business exploitation pathways, and participation in relevant international community efforts.
ACCORD's Mission: Digitalise and automate the building permitting and compliance checking